Drones add little to rocket-filled Israel-Palestine skies, but represent growing global threat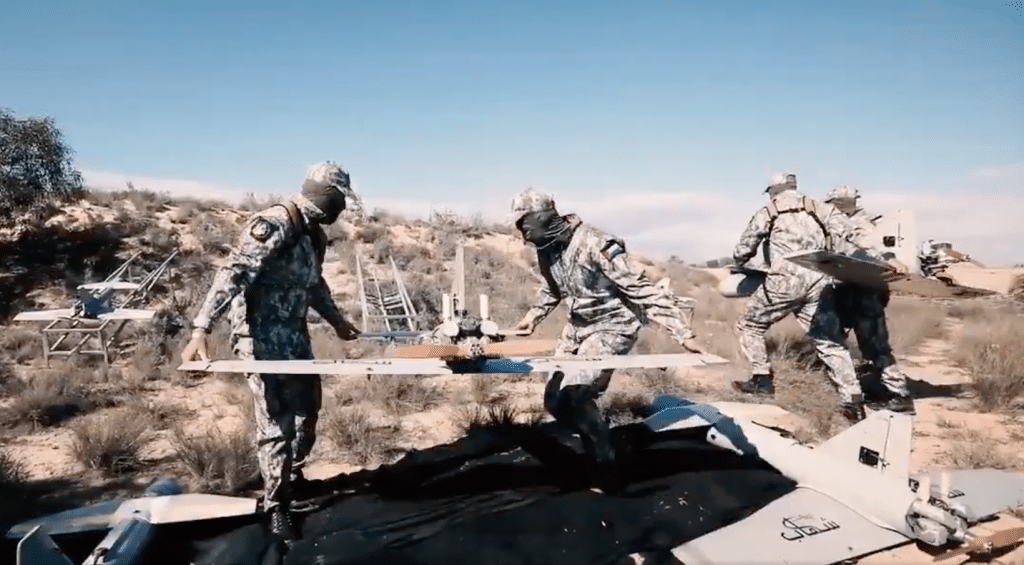 Beneath the ongoing collision of Israel's cutting-edge and costly missile defense systems and imprecise but inexpensive Palestinian-built rockets, Hamas has begun using so-called "kamikaze drones" to try penetrating Israeli defenses another way.
The Israeli government has claimed that its Iron Dome rocket defense system is effectively blocking most incoming rockets that pose a threat to Israel's cities. Hamas has launched more than 3,000 rockets from Gaza since May 10, but Israeli officials claim most have either been intercepted by Iron Dome's missile interceptors or did not reach significant targets (landing in unpopulated areas or failing in flight).
The current barrage is widely understood as an attempt by Hamas to overwhelm Iron Dome's defenses. But according to the Israel Defense Forces (IDF), over the past week Iron Dome successfully shot down nearly half as many rockets as it had in its entire decade of operation prior to this month. Images of Tamir interceptor missiles soaring upward to destroy inbound rockets have spread all over social media and led to sometimes spellbound news coverage.
But Iron Dome is being tested in new ways. Hamas released video footage last week of fixed-wing unmanned aerial vehicles (UAVs) launched via catapults; experts noted the Hamas drones bear some resemblance to the Qasef UAV used by Houthi forces in the conflict in Yemen. Those are in turn based on Iran's Ababil-2 drone.
The first known use of drones by Hamas to target Israel was in 2014, but the Hamas drone efforts date back to the end of 2012 when the IDF said they attacked the group's "nascent UAV program."
Israel claims its defense against aerial drones has been effective. Iron Dome, which became operational in 2011 and was originally developed by Israeli defense contractor Rafael to target rockets headed toward Israeli cities, is a network of radars and missile batteries that has since been modified to better track and intercept a range of aerial systems, including drones and cruise missiles. The general manager of Rafael's air and missile defense division, Pini Yungman, recently explained that in the last several months the company had "squeezed the physics like you squeeze a lemon" to give Iron Dome the capability to "intercept huge salvos and many different threats like UAVs." The IDF said it shot down several Hamas drones this past week, including at least one with Iron Dome—a first. (The IDF also released video of an F-16 fighter jet shooting down a UAV, and claimed to have blown up the "operational apartment" of Hamas' head of drone operations.)
Many experts are looking closely for an Iranian fingerprint on Hamas attack drones. Though the Hamas drones (dubbed "Shehab") are noticeably smaller than the Iranian designs, many features appear similar, including Chinese-built commercially available engines. Other observers emphasize that surface comparisons like size and shape are far less relevant for attributing origins of drone designs than the components inside them, like electronics and gyroscopes (and GPS systems you can purchase on the internet).
The proliferation of weaponized drones is by no means exclusive to Iran. As the development and use of unmanned systems has accelerated, they have appeared with increasing prominence in conflicts around the world. For instance, Turkey's homegrown drone industry has adapted quadcopters to fire various kinds of ammunition and was instrumental in furnishing UAVs for recent attacks in Libya, Syria, and notably Nagorno-Karabakh. And Israel itself is the world's largest exporter of drones. (In fact, at the very moment the latest hostilities were beginning, the Pentagon announced a new contract with Xtend, an Israeli defense manufacturer that develops high-tech "counter-drone drones," among other 21st century marvels.)
Turkish defense firm Troy Teknoloji Savunma recently demonstrated its quadcopter drone firing a 40mm miniature rocket.
While drones still seem in 2021 like a cutting-edge technology for war, their use by military and paramilitary forces is not especially new, nor unique to the region. Israel and Iran have each deployed drones for nearly half a century. And non-state forces from Boko Haram in Nigeria to drug cartels in Mexico have acquired drones over the past two decades for both surveillance and attacks.
The US and Israeli national security agencies agreed last month "to establish an interagency working group to focus particular attention on the growing threat of Unmanned Aerial Vehicles and Precision Guided Missiles produced by Iran and provided to its proxies in the Middle East Region."
But analysts caution that a dangerous drone arms race has already begun, with Israel and Iran among the frontrunners. Writing in the Bulletin, the UN Special Rapporteur on Extrajudicial, Summary, or Arbitrary Executions, Agnes Callamard, called for an international accord to control the proliferation of drones and mitigate against "a second drone age, in which new 'Drone Powers' use remotely operated military technologies as the spearhead of state power, at the cost of thousands of lives."
So far, drones don't appear to have radically changed the dynamics of conflict in Israel and Palestine. But their use in the current conflict suggests how hard it will be to put the unmanned aerial genie back in the bottle.