How To Change Name On Facebook Before 60 Days After Limit – 2017
Facebook is best place to interact with friends by chatting or using other activities. Facebook is also best way to spend extra time online. We can easily know what is in the trend and going viral. Basically we use Facebook to share status, images and our memories. But to use Facebook we need to add some personal information which is required by Facebook to make user experience better. We add personal details like bio, status, date of birth and use our name on the profile. So that, it will easy for someone to find us on Facebook.
Every Facebook user has an intention that we want ours friends to give their comments, likes on our status and photos. In the same way we use different types of names to our make profiles unique and attractive.
How To Change Name On Facebook Before 60 Days Limit.
First of all, go to 'Account settings' and click on 'Edit name' and confirm that Limit is currently present or not.
If the limit will be present Name will not be clickable and there should be a note about name change limit Which looks like.
You can't change your name right now because you've already changed it within the last 60 days. Learn more.
After checking out limit if you want to continue to change name then

Click Here

Click on the Continue Button. This link is actually for securing and recovering account from hacking. So we will use it to recover our account and it will let us to change name in further steps.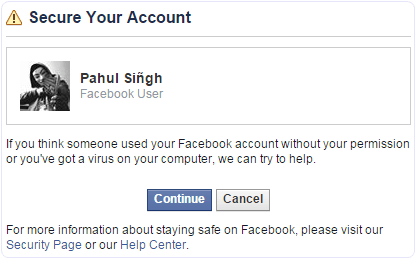 Change your Account password and but you don't need to change any other information like email, mobile no etc.
After continuing they will show that you have recently changed your account name.
Then all the previously used names will displayed and select any of the listed name available there.
We hope you enjoy this trick about change name on facebook before 60 days and don't forget to share this with others also. For any query or suggestions, write to us in comments below.